Upendo 3: The Final Chapter
September 2, 2022 @ 7:30 pm

-

September 4, 2022 @ 7:30 pm

$40 – $150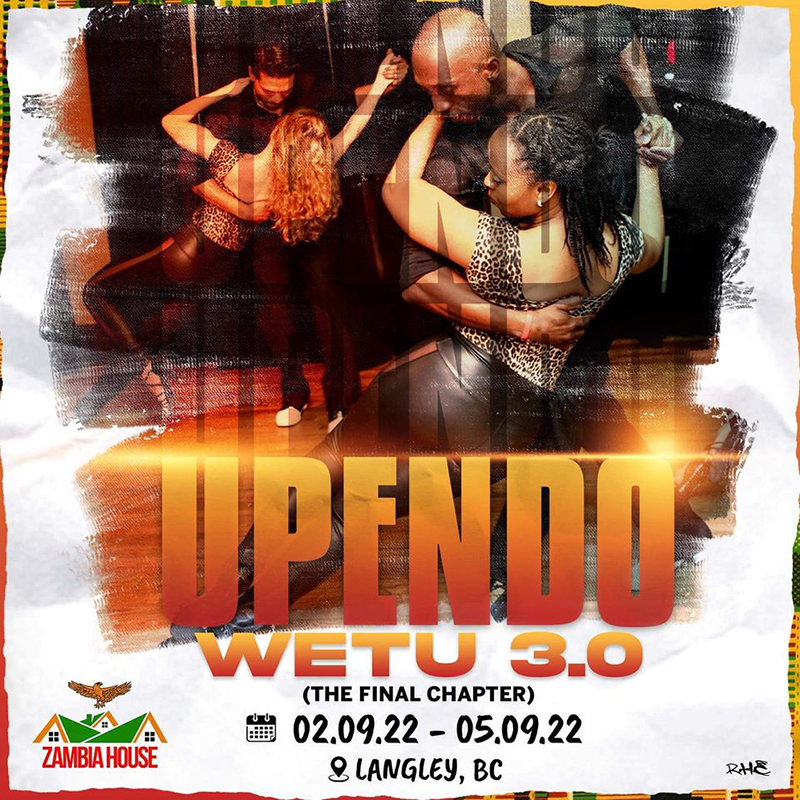 Zambia House Presents…
Upendo 3: The Final Chapter
We could have sworn the sequel was the last one but the vibes were so strong and I think things come better in 3's. So here it is, the trilogy, the final chapter.
If you know, you know, if you don't know come find out.
"A man who calls his kinsmen to a feast does not do so to save them from starving. They all have food in their own homes. When we gather together in the moonlit village ground it is not because of the moon. Every man can see it in his own compound. We come together because it is good for kinsmen to do so." ⁠— Chinua Achebe
Let's get together and learn, eat, and dance together! The instruction for this edition will come from Julz (Montréal), Jurcic (Quebec), and Freezy (Victoria).
We will have 8+ hours of instruction and 10+ hours of social dancing with music from;
DJ JC Stripes (Quebec), DJ Wu Li (Vancouver), and DJ Gaz TKB (Lusaka).
Friday social is downtown at BC Dance. Everything else is in the Fraser Valley at a venue to be given to workshop attendees.
Upendo Lite Pass : $40
2 Hour Workshl>op
Friday Social Vancouver
Saturday Social (Langley)
Full Pass: $150
8+ Hours of Workshops
All 3 Socials
Sunday BBQ
Q & A
NB: Both are bundles, there is not an option for just 1 activity.
For tickets and accommodation options if you're not local please get in touch with Jitebe.