Victoria International Kizomba Festival 4th Edition
April 6

-

April 10

$137.87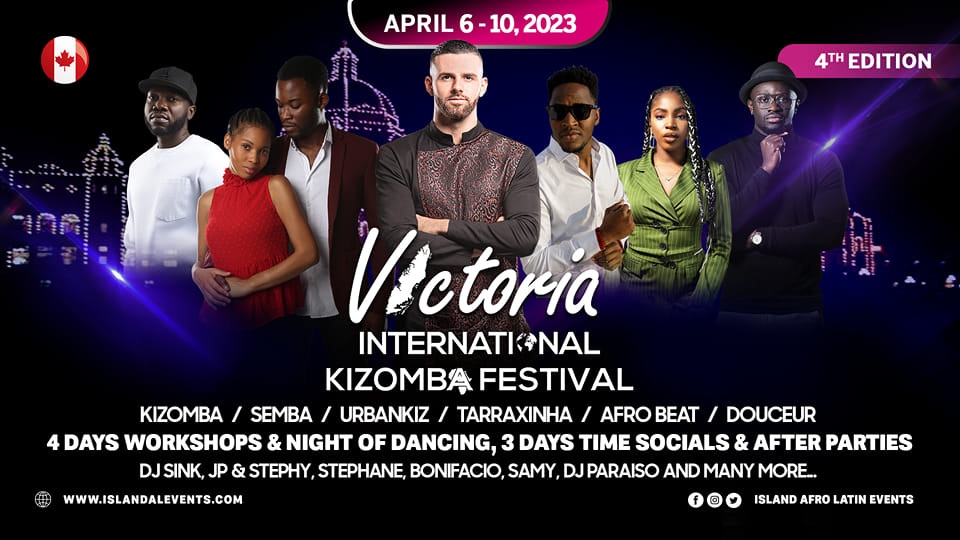 Welcome to the Victoria International Kizomba Festival, APOCALYPSE EDITION!!
What to expect?? Locally and Internationally renowned instructors, teaching Semba, Kizomba, Urban Kiz, Tarraxinha, Tarraxo, Douceur, Afro Beat, Afro House, Kuduro and More!
ALL IN ONE:
Over 27.000 square feet of space
3 ROOMS: Kizomba room, Urban Kiz room, Social room
After Party Room: dancing goes to 7am with Douceur, Tarraxinha, and Sweet Kiz
VIKF 4th Edition is offering you:
*4 days of workshops
*3 day-time socials
*4 nights of dancing
*3 afterparties until 7am
*15 hours + of workshops
*40 hours + of dancing
* 2 educational sessions of Cultural Aspect of African dances
* 1 Gala Night of celebration of Multiculturalism, Diversity, the Arts including performances and fashion shows by African Designers
IMPORTANT NOTICE: This 4-day festival has some free components offered to the general public as well as some activities with a minimal cost (to be announced at a later date)
ARTISTS CONFIRMED TO BE ANNOUNCED SOON
15+ Taxi dancers
20+ International Special Guests
HOTEL DEALS: WE HAVE 4 PREMIUMS HOTELS TO HOST YOU.
Follow us on Facebook for up-to-date announcements!
IMPORTANT NOTE:
If you are no longer able to join, you can transfer your pass to another participant without any fee, transfer your pass to the next edition, or ask for a refund within 15 days after the event.
You must be 18+ to attend this event.
Click the "Going" tab on Facebook to receive notifications about line-up updates and any useful information regarding this event.
By purchasing the pass, you grant the photographer, videographer, the Organization and its partners/sponsors the permission to use your image in any and all forms of media for commercial purposes, advertising, and promotion.
COVID-19 Clause: This event may be postponed or cancelled by the Organizer due to the Covid19 pandemic or any other resulting event related to the instructions of the federal government of Canada and the BC provincial government. In such case, the buyer can ask for a full refund.