Vancouver Island Afro Latin Dance Experience
September 30, 2022 @ 12:00 pm

-

October 2, 2022 @ 6:00 pm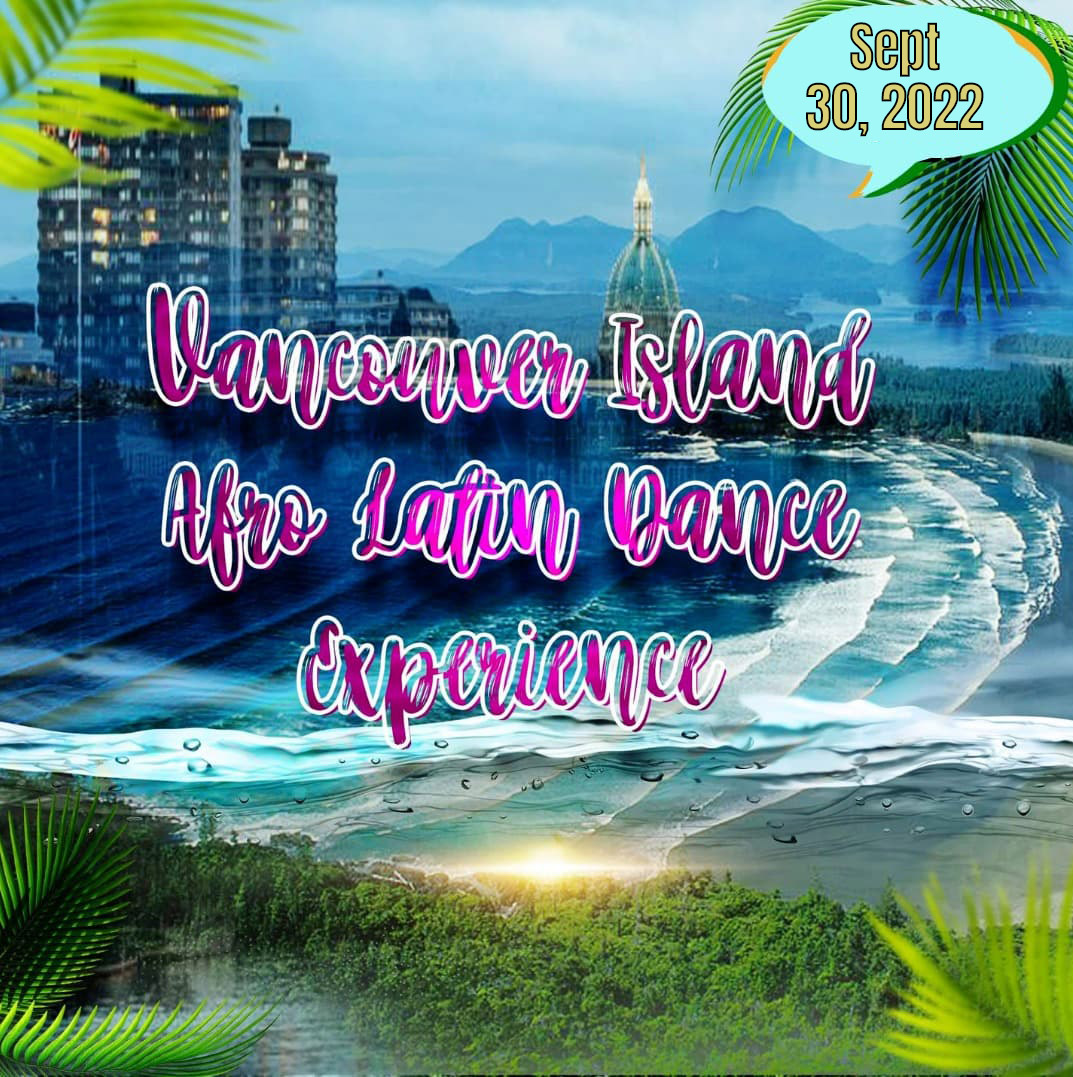 Victoria's biggest Afro-Latin event is back. From September 30th to October 2nd, 2022, get ready for the Vancouver Island Afro-Latin Dance Experience like never experienced before.
This mini festival offers an outdoor event with free activities dedicated to the Afro and Latin dance communities in Victoria, BC. It is open to the general public and to all ages.
The first portion of the event will be held at Centennial Square, Victoria City Hall on Saturday, October 1st from 1:00 pm to 6:00 pm.
Programming:
12:00 pm to 1:00 pm: set up/meet artists/live concert
1:00 pm to 1:45 pm: live concert (B Kenyan and group) 1st part
1:45 pm to 2:30 pm: speaker presentation (speakers will be on site to take questions)
2:30 pm to 3:00 pm: Zambia House Performance
3:00 pm to 3:30 pm: Ghozt Walka Performance
3:30 pm to 4:00 pm: Live Concert (B Kenyan) 2nd part
4:00 pm to 4:30 pm: Exhibition Class
4:30 pm to 5:30 pm: DJ Sets (DJ Gaz & DJ Aquarius)
Performances:
Live concert from B Kenyan (from Vancouver)
Performance from the Zambia House band (from Vancouver)
Performance from Ghozt Walka (from Victoria)
Exhibitions Classes provided by:
Freezy Bruce (from Victoria)
Elvis Amisi (from Ottawa)
DJ Sets from:
DJ Gaz (from Vancouver)
DJ Aquarius (from Ottawa)
Guest speakers will present on cultural aspects and origins of Afro-Caribbean dances, and migration of Kizomba across the globe. They will also provide workshops on systemic racism, multiculturalism, cultural exchange, community building, and the impact of Covid-19 on our communities.
Guests speakers are:
Chris Kizomba (from Los Angeles, USA)
Pr Moustapha Fall (Professor at UVIC)
The indoor portion of the Vancouver Island Afro Latin Dance Experience will be held at the Method Studio, 841 Fisgard St, Victoria, BC V8W 1R9
Activities are structured as follows:
Friday, September 30th:
6:00 pm – 9:00 pm: Educational Workshops
9:00 pm – 2:00 am: Party
Saturday, October 1st:
5:00 pm – 8:00 pm: Educational Workshops
8:00 pm – 9:00 pm: BREAK
9:00 pm – 2:00 am: Party
Sunday, October 2nd:
1:00 pm-3:30 pm: Workshops
3:30 pm – 5:00 pm: Day Social
 Artists Confirmed:
TIN MAN (Urban Kiz, New York, USA)
ELVIS (Kizomba, Ottawa, Canada)
DAVID LAMINE (Fusion, Victoria – Canada)
DJ Aquarius Jones (Ottawa, Canada)
DJ Gaz (Vancouver, Canada)
AND MORE TO BE ANNOUNCED